Team Training Closure:
Closed the 2nd Wednesday of the Month from 2-6 pm:
Welcome to DeWitt Pet Health Center
Your Veterinarian in Dewitt MI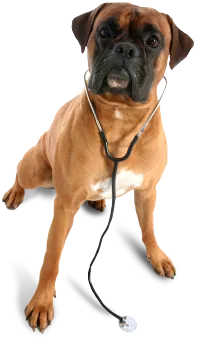 Need a Veterinarian or Pet Hospital in DeWitt or the greater Lansing area? Our Dewitt Veterinarians and pet health team at the Pet Health Center in DeWitt MI, provides exceptional veterinarian services for dogs and cats of all ages. Our compassionate and well-trained pet health team is concerned with te physical and emotional needs of pets and the families that care for them. Our goal is to provide your pet with life long health and wellness care.
DeWitt Veterinarian, Dr. Stephen R. Thimmig and his team care for your pets in the greater Lansing area and are conveniently located in DeWitt between Bath, St. Johns and Lansing. At the very heart of any wellness program is an Annual Comprehensive Physical Examination. This gives your veterinarian a chance to review all of the changes your pet has experienced in the last year. Veterinarian emergencies are available 24 hrs a day by calling 517-669-2641.
If you live in Dewitt or the surrounding area and need a trusted veterinarian to care for your pets – look no further. Dr. Stephen Thimmig is a licensed MI veterinarian, treating all types of pets. Your pets' health and well being are very important to us, and we take every possible measure to give your animals the care they deserve.
DeWitt Pet Health Center is a full-service animal hospital and welcomes both emergency treatment cases as well as pet patients in need of routine medical, surgical, and dental care. Dr. Stephen Thimmig has years of experience treating serious conditions and offering regular pet wellness care. Beyond first-rate pet care, we make our clinic comfortable, kid-friendly, and calm, so your pet can relax in the waiting room and look forward to meeting our Dewitt veterinarian.
If you have any questions, call (517) 669-2641 or email us and we'll promptly get back to you. Our Dewitt veterinary office is very easy to get to -- just check out the map below! We also welcome you to subscribe to our newsletter, which is created especially for Dewitt pet owners.
At DeWitt Pet Health Center, the lifelong health of your pet is our commitment!
Dr. Stephen Thimmig
Dewitt Veterinarian | DeWitt Pet Health Center | (517) 669-2641| [email protected]
1120 Commerce Park Dr. Suite D
Dewitt, MI 48820